The event was held on the 19th and 20th of November in the French city of Tolouse. Antonio del Campo explained the main aspects of the decision support tool that is being developed by RESILIENT FORESTS.
The LIFE project RESILIENT FORESTS highlights the need to put in place an eco-hydrological-based forest management strategy that helps reduce the impacts of climate change on Mediterranean forests to improve their adaptive capacity. For this reason, the study led by the researcher of the Re-FoReST group from IIAMA-UPV (Institute of Water and Environmental Engineering of the Polytechnic University of Valencia), Antonio del Campo, participated to the symposium: Adapting forests to climate change: methods, tools and projects, organized by the project LIFE FORECCAsT.
The meeting, held in the French city of Tolouse, was attended by experts, professionals, scientists and project managers, who addressed – through various oral presentations and poster presentations – the current situation of the forest areas, their future perspectives and the different strategies to reduce the effects of global change on these ecosystems.
Climate change puts semi-arid forests at a crossroads facing many potential impacts and threats; practices that improve their adaptation and conservation must be promoted said Antonio del Campo. During the meeting it became clear that climate change puts semi-arid forests at a crossroads with many potential impacts and threats. Therefore, before the consequences are irreversible, we must promote practices that improve their adaptation and conservation.
The RESILIENT FORESTS project and the decision support tool
Specifically, the IIAMA researcher presented in the thematic block Adaptation of forest management to climate change, the study Management of low-productive forests, the challenge of including forest non-marketed services.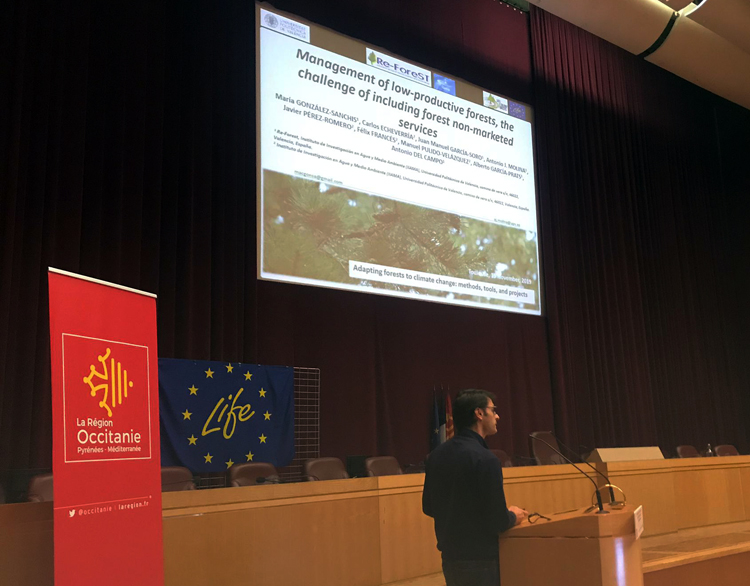 During his speech, Professor Del Campo highlighted the need to address forest management from a multiple perspective that maximizes all the possibilities of profitability of forest ecosystem services, which individually cannot be efficient enough from an economic point of view. In this sense, the UPV professor explained the main aspects of the LIFE RESILIENT FORESTS project, putting the main focus of his presentation on the Decision Support System that is being developed and that will help determine what type of forest management is more optimal, to maximize the profitability of ecosystem services.
Our research seeks to demonstrate to what extent it is profitable to carry out forest management at the level of water collection, and how management changes when combined with other variables, such as biomass production, fire risk reduction and climate resilience said the IIAMA researcher.
Finally, Prof. Del Campo wanted to conclude his presentation by recalling that non-management is a model that has been in force for a long time and is not a sustainable solution. This is particularly true if we consider the new potential impacts and threats deriving from climate change, which is why it is necessary to put in place a clear and defined strategy to manage our forests.